MajorGeeks - Web Security / Technology Resources
The following MajorGeeks - Web Security / Technology Resources may also be of some assistance.
Note: Such resources/sites are generally external to FreeSystemScan.com although we appreciate any legitimate feedback on them. Information source is generally from the respective sites.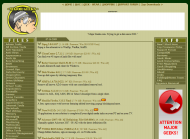 Information and access to products is available from MajorGeeks who provide an intriguing spin on technology in general. The range of available software includes tweaking, repair and security applications.
Feel free to utilise this information or return to Free System Scan Home
Partners: At FreeSystemScan.com we generally welcome partnership proposals with relevant areas of interest to Free System Scan. Should you wish to be considered for a partnership, suggest a relevant topic or link please refer to our Partners page.
As per our Terms And Conditions Of Use, FreeSystemScan.com is not necessarily endorsing external resources/sites.