SUMMARY
Ad-Aware Plus is a broad anti-malware software product that can detect an wide array of threats. It can detect spyware, adware and some viruses.
There is a free scan in the free trial which you can download today.

FEATURES
Overview: LavaSoft Ad-Aware Plus runs in real-time and has many security features. It's protection includes anti-adware, anti-spyware and some anti-virus.
LavaSoft claims that it can detect over 2 million instances of malware including worms, trojans, keyloggers, popups, hijackers, ID theft, rootkits and attempts to limit access to 'bad' sites when on the internet.
There is also an update function to keep your malware database up to date. It includes heuristics (behaviour based) detection as well to try maximise your PC's protection.
Ad-Aware Plus has both an on demand scanner and a scheduled scanner for your convenience.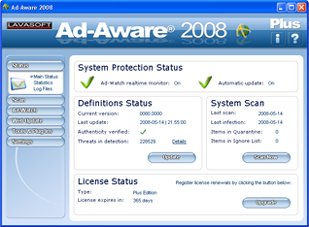 The System Protection Status "Dashboard" screen summarizes
the security status has access to the on-demand scan.
Pro V Plus: Ad-Aware Pro and Ad-Aware Plus are similar software products, The main additional functions of the pro version are:
Ad-Watch Live Expert.
Network Drive Scanning.
Command Line Support.
Lavasoft Toolbox which include Process Watch, ThreatWork, Hosts File Editor and AutoStart Manager.
System Requirements:
This software is designed to operate on PCs. For more information on requirements refer to the more information button.



WHAT WE LIKED
Integration: Ad-Aware Plus includes the security functions of anti-spyware, anti-adware along with some anti-virus and more. Add to that the extensive range of malware detections. It does however lack a firewall so one would have to be sought separately.
DashBoard: The user interface features the System Protection Status screen which contains useful status information and access to other functions.

ADDITIONAL COMMENTS
Vigilance: You may refer to our Security Solution Summary as to the importance of understanding how software security should be complimented with your own caution and vigilance.
Free Features: Ad-Aware Plus comes with a free trial and includes a free scan.

RATING


4.0